This is only really a signpost site for our main one, which is HERE.
---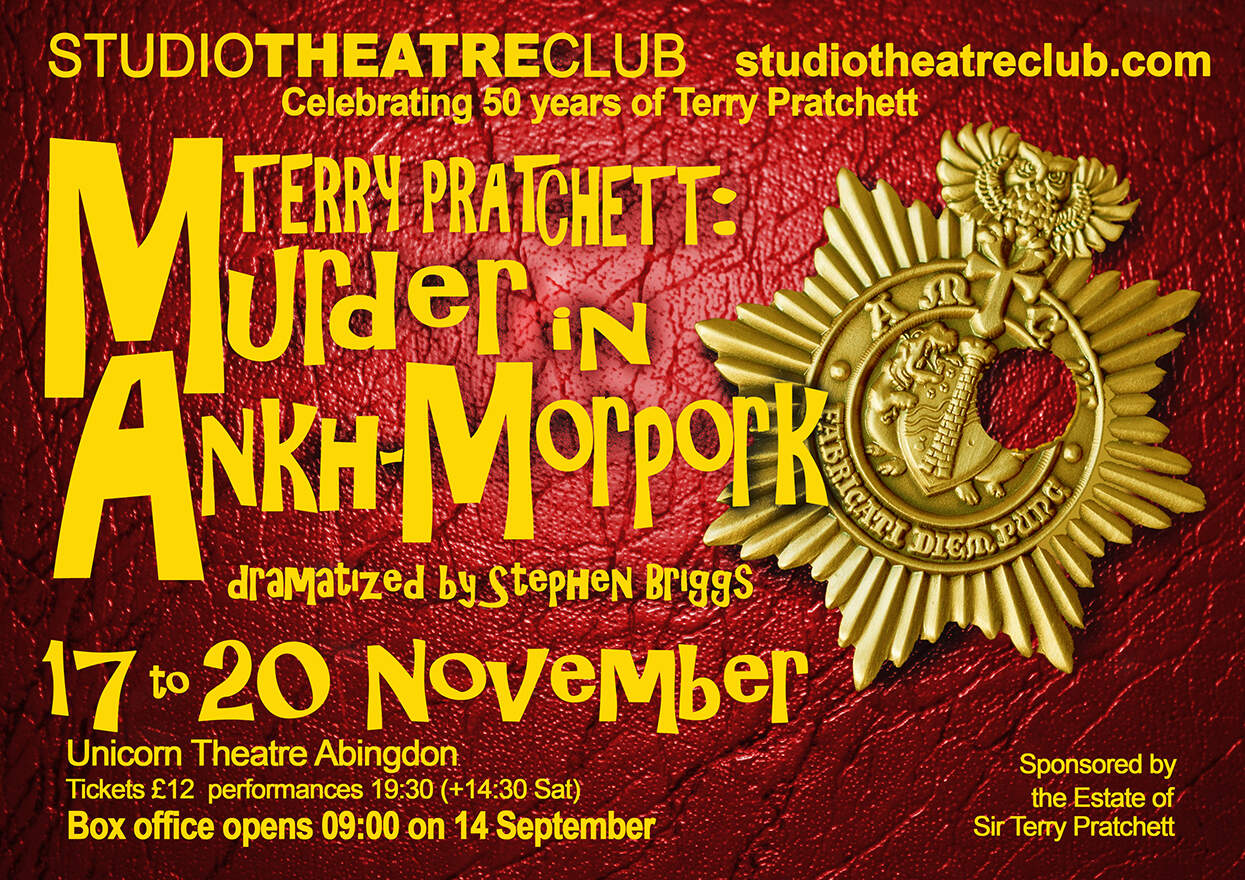 16 November 2021 marks 50 years of Terry as a published author.
By a delightful coincidence, the revised dates for our delayed Discworld play - MURDER IN ANKH-MORPORK - are the same week as that anniversary.
'The Carpet People' was published on 16 November 1971. And on 17-20 November 2021, we will be staging a celebration of Terry's work - featuring some of his best-loved characters - the Ankh-Morpork's City Watch.
We are delighted that the show will be officially sponsored by Terry's Estate.
We wanted to stage a play involving the Ankh-Morpork Night Watch. But we'd already staged all of Stephen Briggs' dramatizations featuring this noble group of guardians of justice. By coincidence, this year also marks the thirtieth anniversary of our first Pratchett play (and the first Pratchett dramatisation ever) - Wyrd Sisters.
Stephen got special permission to put together an affectionate mash-up incorporating characters and bits from Guards! Guards! , Thud! and Feet of Clay, woven respectfully into the core plot of Men at Arms.
The city is protected by the multiverse's most diverse police force. But a new threat is emerging - the Discworld's first and only firearm. The Gonne.
We think this one may prove popular, and tickets will go on sale at 09:00 on 14 September from our WeGotTickets site here.
Well, as it says above, they're not available yet. They go on sale, online, on 14 September at 09:00, and not before. Put the date into your calendar... our last Discworld show (Hogfather - see photo above), sold out in under 36 hours!
The show will be staged in Abingdon. We are amateurs so no, we won't be touring and we won't be videoing the show. The only way to see it is to buy tickets when they become available and travel to the Unicorn Theatre, Abingdon, Oxon, UK.
ACCESS TO THE BUILDINGS
The Unicorn Theatre is part of Abingdon Abbey Buildings - a scheduled ancient monument. There are lots of steps and awkward changes of level throughout the building. There is, effectively, no wheelchair access and the buildings pose significant challenges for anyone with mobility issues.